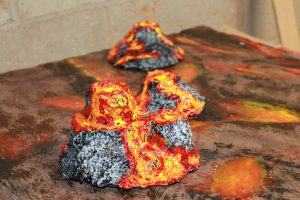 I promised a co-worker that I'd post some pics of the volcano terrain I've been working on. I will upload a step-by-step "How-to" process with photos on Patreon on Monday. This is the first time I've attempted a project like this, but I'm quite pleased with the results. There are three small volcanoes in the pic, but the camera angle makes it look like only two. The lava board these are setting on was made by Christal and we will also show a step-by-step process for this in the near future as well.
The materials for these aren't hard to come by. Most of the materials are things you have around the house. But, if you're in the crafting mood, this is a good project. With the painting and dry time, expect a two or three day period overall.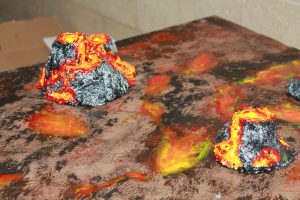 Here is a pic without the lava board.
A special "Thank you!" to Christina W. for becoming a $2/month patron! Your support is greatly appreciated!