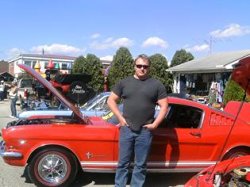 Leonard D. Hilley II grew up in Fort Payne, AL, where his never-ending curiosity introduced him to the world of biology and books. During his youth he was an avid insect collector and reared butterflies and moths. His love for science eventually merged with his writing. He currently resides in Marietta, Ohio, where he writes science fiction thrillers, epic high fantasy, and YA mysteries.
Education: B.S. Biology; MFA in Creative Writing
Leonard D. Hilley II is the author of Predators of Darkness Series, The Chronicles of Aetheaon, The Forrest Wollinsky Vampire Hunter Series, and The Nocturnal Trinity Series.
Leonard D. Hilley II also writes short stories for YA. Two books were inspired by his early love of biology: Rearing Dragons in My Backyard and Fiddling Worms. He also writes a mystery series for YA: Dee's Mystery Solvers.