This weekend, my epic fantasy, Lady Squire, is promo priced at $.99 on #Kindle, #Nook, #Kobo, and Apple's #iBooks. The sale ends on February 4th and the price returns to normal.
February Scifi/Fantasy eBook Promotion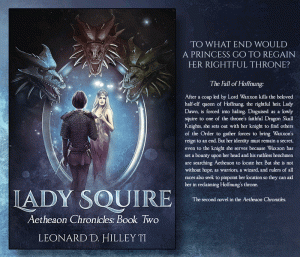 EPIC FANTASY: 759 pages. Beware: There be DRAGONS.
To what end would a princess go to regain her rightful throne?
After a coup led by Lord Waxxon kills the beloved half-elf queen of Hoffnung, the Queen's daughter, Lady Dawn—the rightful heir—is forced to disguise herself as a lowly squire. Chosen by Caen—one of Hoffnung's faithful Dragon Skull Knights—they search Aetheaon to gather forces to end Waxxon's hostile takeover.
Her identity must remain secret, even to the knight she serves. A lucrative bounty of gold has been set upon her head by Lord Waxxon. His ruthless henchmen, thieves, and bounty hunters scour Aetheaon to find her. But Lady Dawn's not without hope.
Warriors, a wizard, and rulers from several races and kingdoms seek to find her before Waxxon's bounty can be collected. And find her, they must, if ever she can rightfully reclaim Hoffnung's throne.