Raising a Cane Corso mastiff is often stressful, as the breed grows exponentially compared to others. The stress comes from having a full-size dog that's still a puppy. Gradually, as the dog matures, this lessens and the dog is more precious than gold.
Titan is almost two years old. He still has his moments, the trying two-year old stage, but for the most part, he's settling down. He a huge dog, full of love, and when he gets excited, his entire body shakes, not just his tail.
Because of a Cane Corso's sharp teeth and incredibly strong jaws, there are few toys he's not destroyed. Walmart sells little grunt pigs, so we took a chance he might not rip it apart. For some reason, he loved it. He played rough with the first one and it stopped grunting, so we bought another one. He kept it all the time and would 'share' it with us in the evenings. He placed it on the couch and nudged it with his nose for us to toss, so he could fetch it. Sometimes, however, he bit it and played tug instead. Due to his extremely sharp teeth and his iron grip, he ripped the pig's snout.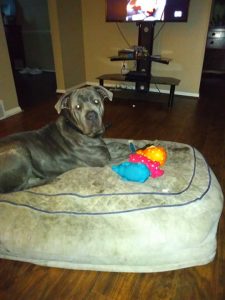 Dismayed, he took the little pig to his bed and discovered the inside of the pig has cotton stuffing. We took it away from him because he'd have continued destroying it. He pouted, heartbroken.
The following morning I went to Sam's. A large display near the dog food aisle had 3-pack sets of the grunt pigs. I couldn't believe it. I bought a set for him and waited until my wife came home from work to give them to him. Only we made them grunts from different rooms, which confused him. He'd drop the one and come running to find another one. After he had all three, he set them in his bed and slept beside them.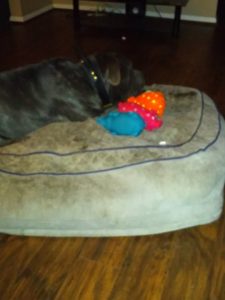 I wonder if he thinks they're pups. Several times, I've found them facing his food dish like they were going to eat with him. He's very protective of them, but still brings them to us in the evenings for us to toss.
Until next time….