The first two books in the Nocturnal Trinity Series are now in one volume: https://www.amazon.com/dp/B073P9DL6B
Succubus: Shadows of the Beast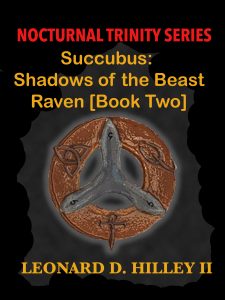 Nocturnal Trinity is the exclusive nightclub everyone in Seattle raves about, where the creme de la creme of the city mingles and parties. Access and membership are by rare invitation only. Those hopeful to become members are desperately willing to do almost anything to be chosen. They sacrifice hours waiting in line, give blood offerings, pledge their very souls, and even kill, if doing so grants them a better chance for entry into the nightclub.
To the unknowing eye, the nightclub's symbol above the door is merely occultic art, but to the ones able to translate its obvious message, the symbol screams a blatant declaration of the union of vampires, witches, and demons that preside over the club.
"Welcome to Nocturnal Trinity!" sounds like a cordial invitation for any new member fortunate enough to be chosen to partake in the Seattle Underground, but not so for Kailey Yates. She discovers something far more sinister resides inside the nightclub and their combined powers spellbind and blindly draw the lust of the city's elite, mesmerizing them into doing whatever the nightclub's Circle of Unity commands.
Kailey believed these creatures only existed in fantasy novels and movies, but now that she knows they are real, she must fight for her life because some of them want her dead. And one of those is the demon that murdered her brother.
Raven [Book Two]:
The original Circle of Unity council that had presided over Nocturnal Trinity–the underground Seattle nightclub–remains in shambles after Micah and his pack of werewolves invaded to settle an old score. Thinking he can bring back balance, Micah merges a new faction into the Circle of Unity, the werewolves. However, ancient vampires never take lightly to threats, nor do they like abrupt deviations. The elder vampires and the demon council members detest the werewolves even more than before, refusing to enter the truce or even acknowledge anything less than a fractured Circle of Unity. Faced by such opposition, will Micah succeed in uniting the factions or will it cause more problems than it could solve, perhaps even his own life?
Flora, one of the elder vampires, has taken the newly turned vampire, Raven, as her proselyte to mold and nurture because her protege has something none of the other vampires have–seething rage and resentment toward the werewolves and her former best friend, Kailey Yates. Raven blames them for their betrayal, which has caused her eternal undeath, and she seeks to mentally torment and torture Kailey. With the young vampire's burning bitterness knowing no end, she isn't giving Kailey the chance to fully mourn the death of her brother and settle into her new life. Is Kailey strong enough to both fight for her new life and for her very life against Raven?