Release Date: January 12, 2019.
Lady Squire is the second book in the Aetheaon Chronicles. Check out the fantastic cover by Daniela Owergoor! She did a fantastic job.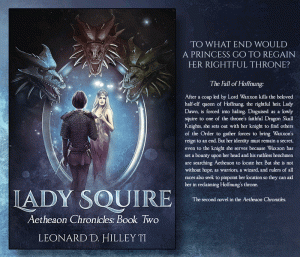 Preorder universal link (all eBook formats): http://books2read.com/LadySquire
Book blurb:
"To what end would a princess go to regain her rightful throne?
After a coup led by Lord Waxxon kills the beloved half-elf queen of Hoffnung, Lady Dawn—the rightful heir—is forced to disguise herself as a lowly squire. Chosen by Caen—one of Hoffnung's faithful Dragon Skull Knights—they search Aetheaon to gather forces to end Waxxon's hostile takeover.
Her identity must remain secret, even to the knight she serves. A lucrative bounty of gold has been set upon her head by Lord Waxxon. His ruthless henchmen, thieves, and bounty hunters scour Aetheaon to find her. But Lady Dawn's not without hope.
Warriors, a wizard, and rulers from several races and kingdoms seek to find her before Waxxon's bounty can be collected. And find her, they must, if ever she can rightfully reclaim Hoffnung's throne."
Books 3 & 4 Preorders will be announced soon, but are releasing in 2019.