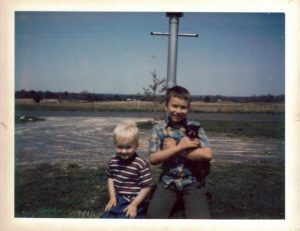 So long ago. I was probably close to three years old here. Back in the days of Polaroid cameras. The road we lived on then was nearly barren. The small twig of a tree behind us was planted by our father. When I drove past our old homestead last year, that sycamore is massive and towers a good fifty feet or more.
Things change so much over the years. Time indeed escapes us, faster than we know. I remember when the four of us were kids and each wishing/waiting until we were eighteen years old. My mother always said that you're wishing your life away. Now I find myself looking at the pictures of our youth and wishing that for a day we could somehow revisit what seemed like simpler times before technology mesmerized our time.
Growing up in DeKalb County during this time was a blessing. Drivers always waved at one another in passing on the road. Families had more time to gather together on Sundays. Now everything seems so rushed.