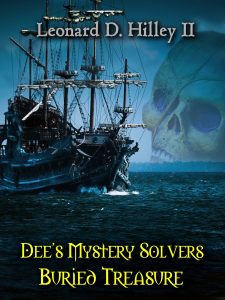 Dee's Mystery Solvers: Buried Treasure is currently available in paperback at your favorite bookstore and online retailers like Amazon, Books-A-Million, and Barnes & Noble. $9.99 Use the code "Sunshine" at Barnes & Noble to get a 10% discount!
Mystery/Suspense/YA:
"Almost every teenager has dreamed of finding buried treasure at the beach. While accompanying Dee and Marty's mother and Lynn's mother on a business trip in Morgan's Cove, the Mystery Solvers find a treasure map inside an old seaweed-covered bottle near the beach. Thinking they've discovered a find of a lifetime, they set out to various shops to get more information about the history of the cove and what Pirates of Olde might have buried their treasures there in the past.
Their sleuthing questions, however, capture the attention of some modern day thieves who keep watchful eyes on the Mystery Solvers' activities. Soon the Mystery Solvers find themselves in harm's way and that some secrets are often best left buried. They are forced to consider the price of their lives over the potential worth of unknown treasure."